Description
IaaS Framework
HEAnet brings you a tailor-made cloud framework for academia; IaaS offerings with unique conditions of use.
Thanks to a unique pan-European collaboration, HEAnet offers you a range of attractive Infrastructure as a Service cloud computing solutions, tailor-made, and priced, for academia.
Availability
HEAnet client members' students and staff.
What products are available under this Agreement?
This framework covers Infrastructure as a Service including Compute, Storage & Network.
Benefits of this Agreement
Save money and time.
There are discounted prices available, which apply to all institutions, large and small.
Institutions already using cloud services have achieved cost savings of up to 30%, after moving to the framework contracts.
The ready-to-use agreements comply with EU data protection law and were established using the EC 2014/24/EU procurement directive, which allows you to use the services directly, without running your own tender / call-for-competition.
Billing and purchasing models were designed to match financial structures in research and education institutions.
You can manage usage and control spending.
Network traffic costs are significantly lower thanks to connecting the suppliers to HEAnet's high-performance data network.
End-users can login using their institutional account, through single sign-on with SAML2 support.
Already in the cloud? Many vendors allow existing educational licensing arrangements to be transferred (Bring Your Own License).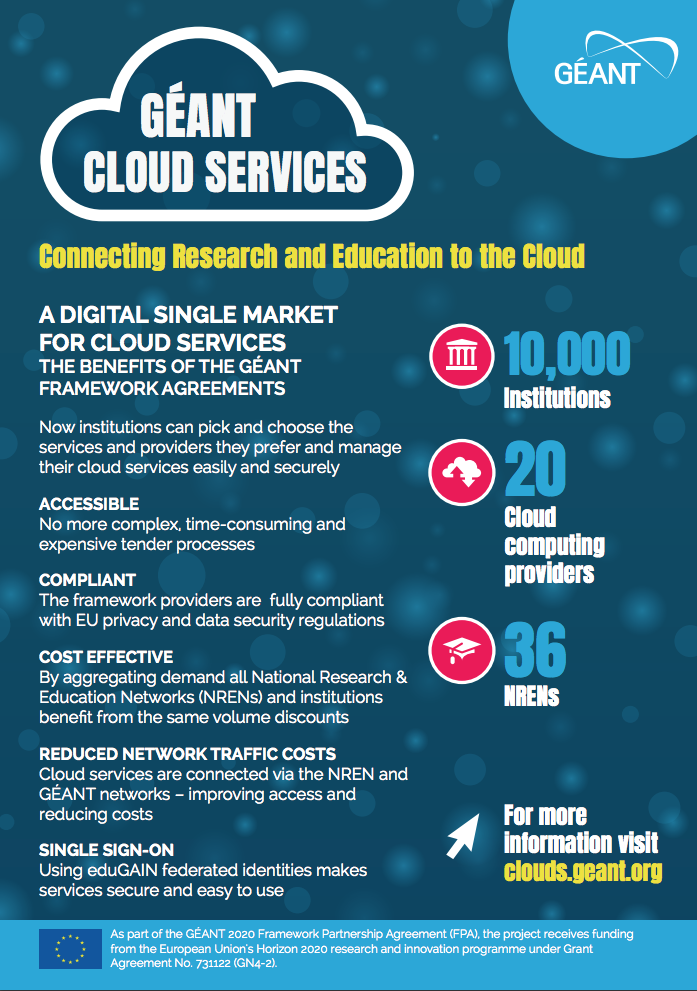 Use Cases:
Click here for Client news Story (QQI)
Click here for Lycee des Arts et Metries case study from RESTENA (Luxembourg NREN) Cloud offer
Click here for study from Liverpool University who build a hybrid HPC cluster based on AWS infrastructure
Expiry:
The agreement will run until31st December 2020.
More Detailed Information:
Request an information bundle here: GÉANT IaaS Information Bundles
Original Infrastructure Providers & re-sellers for Ireland: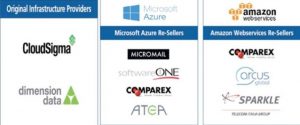 How have we achieved the special conditions of use?
The HEAnet cloud framework is based on the first digital single market for cloud services, established by European association GÉANT. In GÉANT, the  European National Research and Education Networks  (NREN) collaborate to make clouds accessible, safe and easy to use. GÉANT conducted a pan-European call-for-competition (tender) for 36 countries, with GÉANT acting as central purchasing body on behalf of the NRENs and their member institutions.
How can you use the services?
Services are available from the GÉANT cloud catalogue.
The framework offerings remove obstacles such as data privacy, contracting, billing and technical integration. This means your institution does not need to invest time and resources on complex procurement.
If you have any questions or require more information, please contact: brokerage@heanet.ie
Webinars
 "Transforming research & education with Microsoft Azure"
Missed the webinar on Microsoft's Azure?
Re-watch here: An Introduction to Microsoft Azure HPC service.
If you have any questions or require more information, please contact: brokerage@heanet.ie