Six new eduroam Wi-Fi hotspots were introduced: Longford, Ballymahon and Drumlish town centres as well as Longford, Ballymahon and Granard public libraries.
Today, 3rd February 2021, Longford County Council announced the launch of eduroam Wi-Fi as part of the new eduroam Everywhere initiative. eduroam stands for education roaming. It provides secure and easy-to-use Wi-Fi access in more than 12,000 locations across 106 countries worldwide. Students whose home institution participates in eduroam can simply open their laptop or mobile device within range of an eduroam hotspot to have immediate internet connectivity.
eduroam in Ireland is pioneered by HEAnet, Ireland's National Education and Research Network. They helped enable over 160 eduroam hotspots mainly in Universities, Institutes of Technology and other third-level educational organisations. HEAnet is now working on bringing eduroam outside the campus walls as part of their eduroam Everywhere initiative, supported by Simon Harris T.D., Minister for Further and Higher Education, Research, Innovation and Science, and other government representatives. Leveraging existing public and commercial Wi-Fi networks nationwide, the eduroam service can be extended far beyond the physical campuses. The initiative has already made eduroam available in several new locations including The Convention Centre Dublin, CHQ (Custom House Quay) in Dublin and now also Longford, Ballymahon and Drumlish town centres and Longford, Ballymahon and Granard public libraries.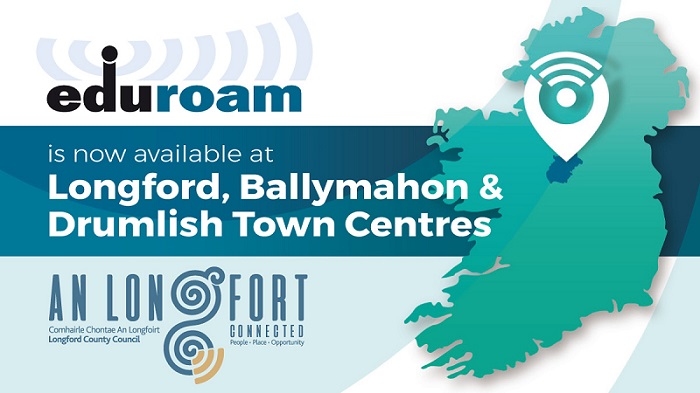 Simon Harris T.D. said: "Education is changing and we must constantly change to adapt to these challenging circumstances. Covid-19 has resulted in an increase in the use of remote learning and it is clear now more than ever that access to modern technology and connectivity is essential.
I would like to congratulate Longford County Council on the introduction of eduroam Wi-Fi off-campus. I applaud the great work that the Council has been doing to support the education and research community and I hope that this will set an example for other Irish County Councils."
Christine Collins, Longford County Council's Broadband Officer, said: "We are delighted to be the first Irish County Council to introduce eduroam Wi-Fi in town centres. Our mission is to support the local community and we consider students and researchers a vital part of that community. HEAnet have been very supportive and guided us through the whole process which turned out to be quick and simple. I believe that this initiative highlights our region's innovative outlook, and we are looking forward to getting involved in similar projects in the future.
I would like to thank Mary Reynolds, County Librarian, Cian McGovern, Project Leader IS Department Longford County Council as well as VEI Global for their efforts. We couldn't have done it without them." 
Kerrie Power, HEAnet's CEO, said: "In HEAnet, we are passionate about equality and fairness and therefore there is a need to go further in the conversation about off-campus connectivity and start making things happen. A recent study by ESRI has shown that 1 in 6 college students come from areas with poor broadband coverage which makes us determined to support reducing and ultimately removing the digital divide. We are working together to make Wi-Fi available in as many locations as possible so that students can keep learning no matter how reliable or unreliable is their internet connection at home.
eduroam Everywhere is a really big, ambitious project and we need support to achieve our goals. We would like to thank the Longford County Council for their engagement and look forward to the positive impact this will have on students in this region."
ENDS
HEAnet are keen to work with any organisations that wish to include their public Wi-Fi in the eduroam service.
If you are interested, please email us eduroameverywhere@heanet.ie and our team will get in touch with you shortly.
Click here to learn more about eduroam Everywhere.