What is Live Streaming?

You can now create and host your own live streamed events through media.heanet.ie.

Simply log into HEAnet's media hosting service (at media.heanet.ie) using the Edugate service and select 'New Stream' under the 'Live' tab.
Adobe Live Media Encoder (or a similar RTMP-based encoder) is necessary for the service and is linked to for download. You will be provided with the appropriate configuration file for this Media Encoder, enabling use of the live streaming service.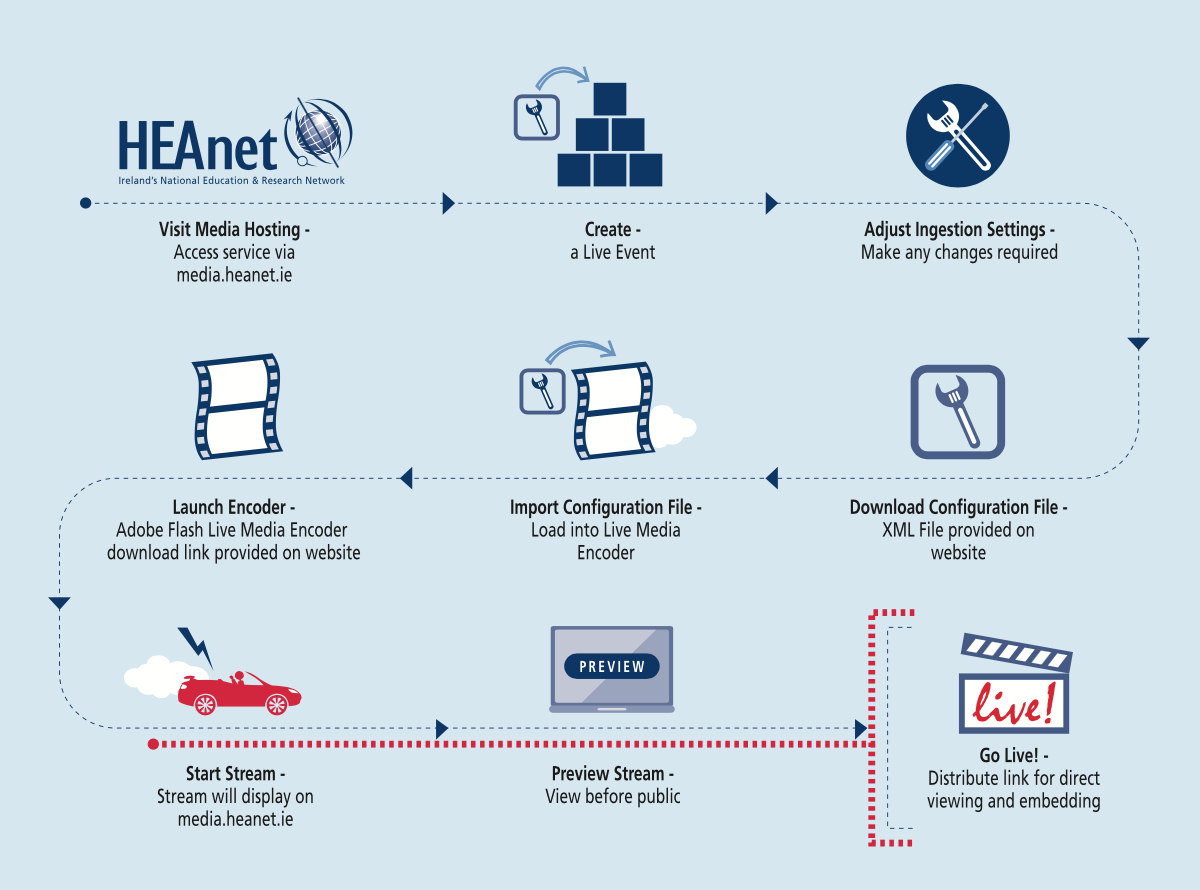 Who Can Use It

Live Streaming is available to all clients of HEAnet.

Live Streaming requires membership of the Edugate federation and a functioning camera / mic set-up to utilise for your event, alongside a Media Encoder.

Equipment Rental and Training

To aid client institutions, HEAnet can both lend equipment (including cameras and microphones) and provide training for institution staff who wish to facilitate their own live streaming of events.

This service can be used to stream special lectures, graduation ceremonies, speeches, conferences and other events, providing a high-quality live stream with zero equipment or hosting costs fees.

Cost

There is no charge to HEAnet clients for the use of Live Streaming.

Live Stream Features

HEAnet's Live Streaming service offers a range of useful user features:

Range of Quality Options – Audio only (128 kbps) or Video (360p at lowest, 4k at highest)

Preview Option – Preview your stream and make adjustments before going live.

Hold Screen feature – Choose and upload your own holding image for intermissions, changeovers, etc.

Embed Code and Direct Link – Easily share and embed your live stream on both websites and social media.

Encoding – Works with all popular encoders

Simple User Interface

HEAnet's live streaming service features an easy-to-use graphical interface, which walks users through the process of setting up a live stream.

With links provided for the required encoder, users can follow the 'Status Bar' process to first set up, then preview, and finally go live with the stream.

Your HEAnet media account ensures all set-up live streams are listed and available to access, making it possible to control and direct numerous live stream via a single account.
Regarding the series, we were able
to do it all ourselves (using HEAnet's Live Streaming Service).

The Live Streaming service performed very well – I'm very happy with it.

Recent upgrades to the interface seems to have improved things even more, giving additional quality options.

It's very simple – with the upgraded set-up, you just download the profile and put it into Adobe Live Encoder, and away it goes.

John Quinlan

Design and Media Manager, Royal College of Surgeons in Ireland

Contact HEAnet

Support for live streaming is available through the HEAnet NOC.

Please include your UserGUID (displayed on your log-in page) when contacting us.

You can contact HEAnet's Network Operations Centre (NOC) by emailing noc@heanet.ie or by calling 01-660 9040. The NOC hours of operation are Monday to Friday, 9:00 – 17:30.

The NOC is committed to ensuring every client receives a consistent, responsive service with an emphasis on minimising client disruption.