What is Video Conferencing?

HEAnet offers a self-managed video conferencing scheduling delivered via the Vscene service, which easily facilitates video conferencing over a wide variety of devices.

HEAnet's video conferencing service is primarily delivered via the Vscene service, which easily facilitates video conferencing over a wide variety of devices.

This dynamic service allows users to connect with each other via video conference from anywhere in the world, including over our high speed IP network.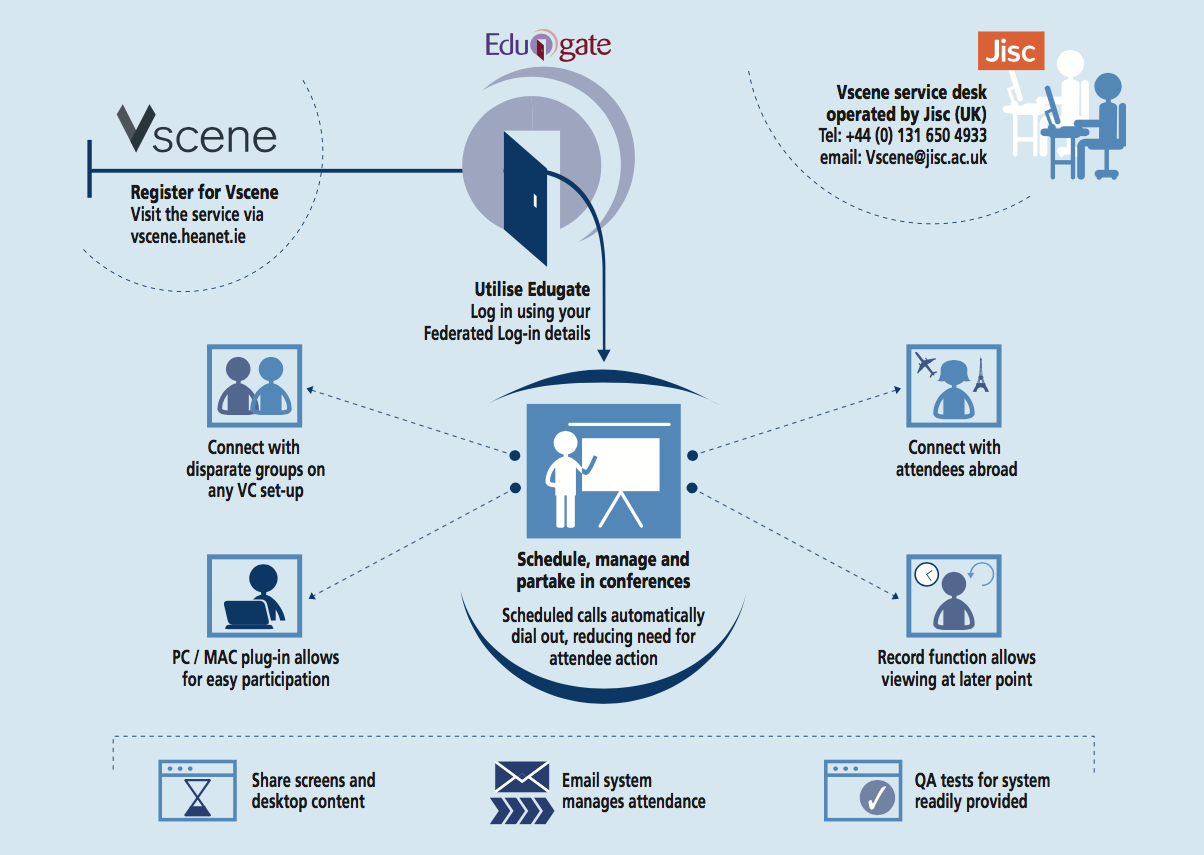 Cost

There is no charge to HEAnet clients for the use of video conferencing.

Who Can Use It?

HEAnet's video conferencing service is available to staff, academic partners and students.

Institutions can control who has access to the Vscene video conferencing service through specific permissions in the user's federated log-in identity.

Minimal Equipment Needs

The Vscene service is designed to be as device inclusive as possible. Older and legacy video conferencing (VC) devices are supported, as well as modern VC units. Vscene can operate with the most basic of webcam / desktop set-ups, with a specific plug-in for Windows / Mac OSX available.


Vscene, a service from Jisc and Ajenta, enhances teaching and learning, supports research and facilitates collaboration. It enables seamless connectivity in a virtual meeting space, regardless of which technologies you are using.

Vscene operates without the need for advanced configuration. Logging into the service is simple, via federated log-in.

Vscene features:

A dedicated service desk to assist with set-up and troubleshooting.
A desktop plug-in permitting Windows / Mac OS X users to join conferences and share content.
A conference recording feature
A simplifed conference confrmation system that works over email
A 24/7 Quality Assurance testing facility.
Additional HEAnet Services
Gatekeeper – HEAnet runs both the national gatekeeper and also one of the world root gatekeepers. These allow users to register their units with the GDS (Global Dialing Scheme).
ISDN Gateway – HEAnet provide an ISDN gateway to allow briding with legacy VC equipment. This is a Dial-In only service.
VC Frameworks – Additionally, HEAnet offer comprehensive and up-to-date framework agreements for VC unit technical support.
We've been using (HEAnet's) video conferencing service for the past few years…I'd definitely recommend it.

Rather than have medical placement
students travel to Limerick every week, which isn't feasible, we've set up lectures via video conference…we'll have major Vscene sessions with up to ten sites.

The fact that they can watch it later – it's fantastic…sometimes it's not feasible for a student to come out of a procedure for a lecture.

The ability to schedule is excellent…at the start of the semester we can schedule all sessions for the term.

Niall Collins

Senior Technical Officer, Graduate Medical School UL

Contact Service Desk / HEAnet

A dedicated Vscene service desk is run by our partner organisation, Jisc, in the UK.

Vscene users in Ireland can contact the service desk by calling +44 131 512 2002 or +44 330 020 0404, or by emailing: vscene@jisc.ac.uk

The Vscene service desk hours of operation are Monday to Friday, 08:00 to 18:00. The Vscene service desk also facilitates Annual QA checks for registered systems.

For more information on video conferencing services, please contact noc@heanet.ie or by calling 01-660-9040, Monday to Friday, 09:00 – 17:30.