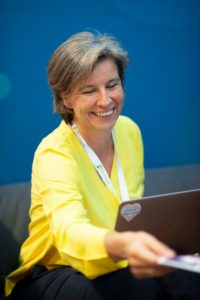 Cathrin Stöver
GÉANT
Chief Communications Officer
Cathrin has 23 years of experience working in global telecommunications and the roll-out of network infrastructures across various continents. Cathrin is a highly effective global team leader, successfully working across borders and cultures in complex multi-dimensional projects. She delivers passionate messages focusing on the benefits and opportunities of e-infrastructures. She is committed to collaboration and knowledge sharing as well as inclusive team building based on a foundation of mutual trust.
Cathrin has been with GÉANT since 1997 and has held various positions as the organisation has grown - always with a specific focus on growing the geographic reach of the GÉANT network and the deepening of the global R&E collaboration. Today she is Chief Communications Officer.
In November 2018, Cathrin was appointed Vice-Chair of the EOSC Executive Board.
In April 2020, she was appointed to the Science and Infrastructure Advisory Board of the Human Brain Project