enet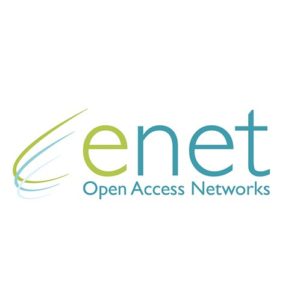 enet operates the largest alternative wholesale telecoms network in Ireland, which comprises of over 5,400km of fibre infrastructure, including the Irish State's Metropolitan Area Networks (MANs), proprietary metro networks, a unique dark fibre backhaul infrastructure, as well as one of the largest licensed wireless networks in the country.
Taken together, enet's infrastructure creates a fully integrated, nationwide network that is truly open access in nature, enabling retail service providers to deliver world-class bandwidth services to their customers throughout Ireland.
enet have been involved in the HEAnet conference for over 10 years and have provided connectivity to schools across the country since the inception of the "100Mbs for Schools" initiative.
With over 120 employees based in Limerick and Dublin, enet currently works with over 80 different retail service providers to bring high-quality broadband and wireless to more than one million end users throughout Ireland.
www.enet.ie
Twitter: https://twitter.com/enet_Ireland
LinkedIn: https://www.linkedin.com/company/enet_ireland/