HEAnet's data centre hosting service facilitates clients who wish to install equipment in a fully managed data centre environment.

The service connects client equipment to HEAnet's high speed IP network, meeting all environmental, power and connectivity needs. This is an ideal solution for clients who are taking measures to facilitate:

Server hosting
Business Continuity (Disaster Recovery)
Projects (continual or once-off) between multiple institutions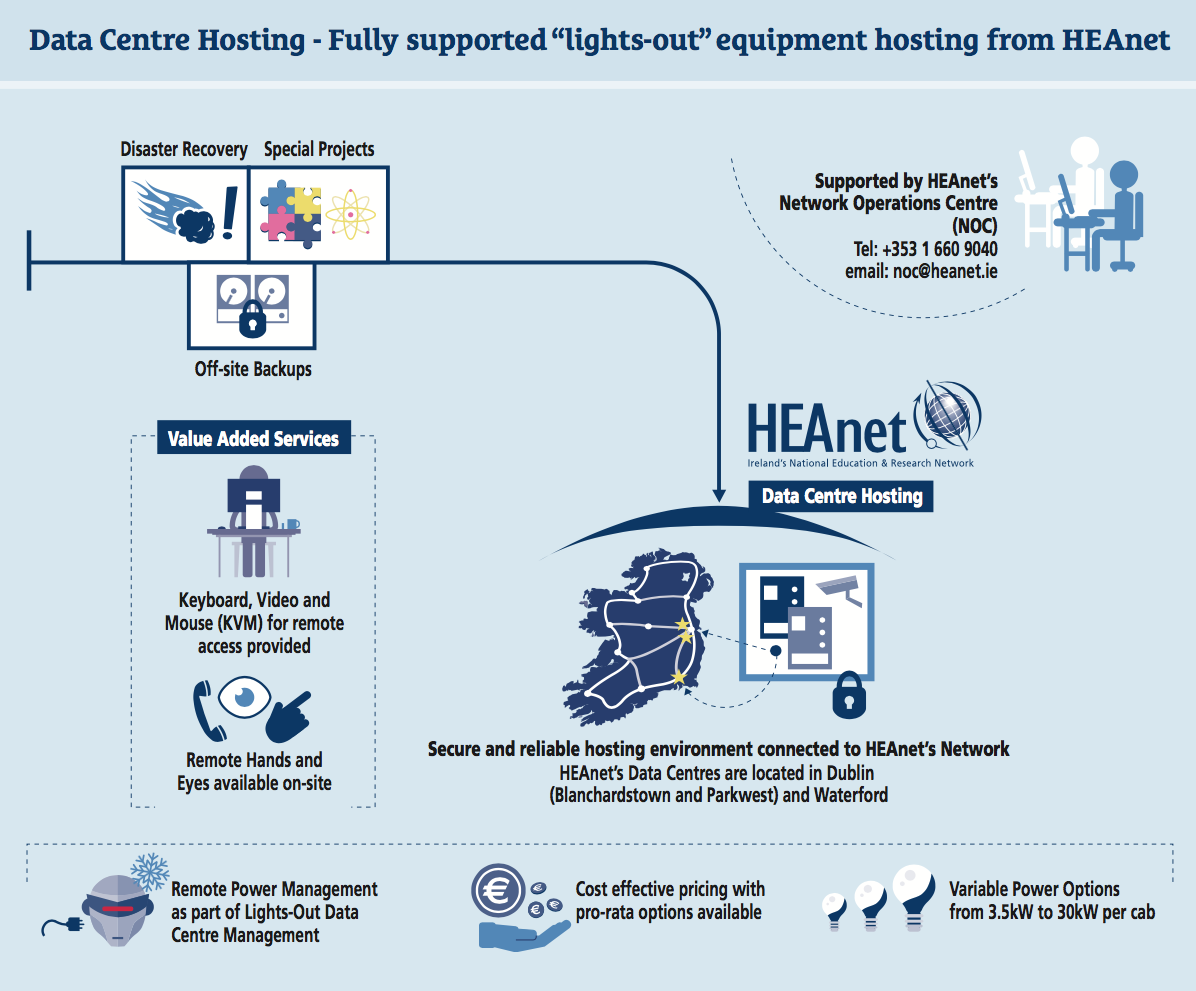 Who Can Use It?

Data centre hosting is available to all clients of HEAnet
The service is run on a not-for-profit basis.

Our Data Centres

HEAnet runs data centres in Dublin (Blanchardstown and Parkwest) and Waterford (full – no additional capacity available at this time)

Both our Dublin data centres provide:

A maximum power draw of 3.5 kW per cabinet
Allotments of 1⁄4, 1⁄2, 3⁄4 or full cabinets
Resilient connectivity to HEAnet's high speed network at 1Gpbs as standard (10Gbps also available)
A full range of value added services

For higher power hosting requirements we have 10kW cabinets in Blanchardstown.
(Waterford is full and we have no additional capacity available at this time).

Value Added Services

HEAnet provides a number of value added services to clients availing of data centre hosting:

Keyboard, Video and Mouse (KVM) interface for simple remote "out of band" management
Remotely accessible Power Distribution Units (PDU) to allow clients to power cycle equipment
Remote Hands and Eyes for when human intervention to equipment is needed
LAN Extensions are available between hosted equipment and the Institution's Campus Network
Connectivity including Resilient Ethernet Links – 1Gbps included as standard (10Gbps also available).

For an additional cost, HEAnet can spec and procure servers on behalf of the client. We can also install and manage an Ubuntu Linux operating system.
Cost
Our standard (3.5kW) Data Centre Hosting including power and cooling – is charged annually, in advance, to facilitate budget planning.
Hosting of a full 3.5kW cabinet in Blanchardstown or Parkwest is €12,000 p.a. (ex VAT). Pro-rata rates for 1⁄4, 1⁄2, 3⁄4 allotments are also available.
Our high-powered (10kW) Data Centre Hosting (Blanchardstown) – is charged at a fixed rate of €4,085 p. a. (ex VAT) per cabinet.  Additionally, a once-off set-up fee of €1,000 applies.
Electricity for high-powered cabinets is metered per cab and charged quarterly in arrears, based on usage.
HEAnet's system has worked so reliably. We have virtually no down-time.

It was a no-brainer (choosing HEAnet)…it had to be resilient, and good enough that the download speeds wouldn't be an issue for users…the data amount we have stored is always growing.

The (HEAnet staff) are good and are all very knowledgeable. I find them very good to deal with – straight-talking.

Without the (data centre) Remote Hands and Eyes, I wouldn't get certain equipment notifications, so from that point of view they're invaluable to us.

Archie Donovan

Principal Geologist, Geological Survey Ireland (GSI)

Contact HEAnet

Support and information on HEAnet's Data Centre Hosting service is available through the HEAnet NOC.

You can contact HEAnet's Network Operations Centre (NOC) by emailing noc@heanet.ie or by calling 01-660 9040. The NOC hours of operation are Monday to Friday, 9:00 – 17:30.

The NOC is committed to ensuring every client receives a consistent, responsive service with an emphasis on minimising client disruption.