To ensure that we continuously deliver shared services that align to the needs of our clients, we have a number of services "in the pipeline".
Services in the pipeline encompass in-house developments, existing service enhancements and services from the international NREN (national research & education network) community made available to our clients through GÉANT services as part of our collaborative membership: HEAnet & GÉANT
Recently launched services
Services in Pre-Production
There are currently no services in the pre-production phase.
Services Being Evaluated
eduVPN Secure Browsing is a GÉANT service to provide secure VPN connectivity (for staff/students in public Wi-Fi locations for secure browsing). This pilot service is open to all HEAnet clients. Contact eduvpn-pilot@heanet.ie for information and to join the pilot.
eduroam Visitor Access a service to provide short-term eduroam access for visitors at our clients' campuses.
New Service Proposals
HEAnet welcomes all proposals for new services, as part of our ongoing services development.
Delivering Common Repeatable and Shareable solutions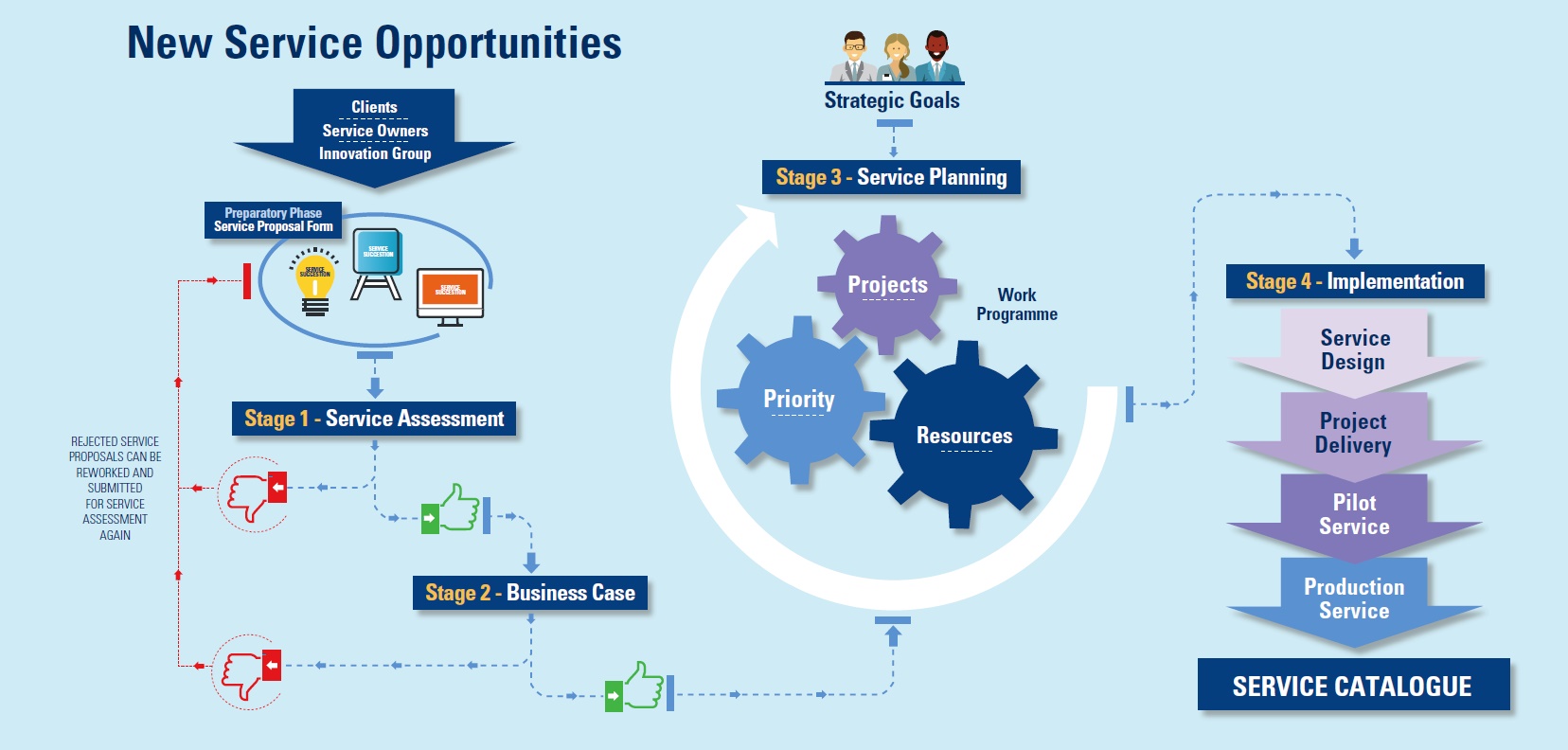 Service Proposal and Business Case
Step one in having all new service proposals assessed is to submit a completed Service Proposal and Business Case form click to download: Service Proposal and Business Case
Please complete the Service Proposal and Business Case form, in as much detail as possible:
Email the completed form to noc@heanet.ie using New Service Proposal in the subject line and include contact details in the body of the email;
On receipt of the completed form, a member of HEAnet's Service Planning group will be in contact to progress the proposal to the assessment stage;
The email sender will be considered the owner of the new Service Proposal and be invited to meet with the Service Planning Group to help evaluate the proposal;
HEAnet will review all Service Proposals no later than four weeks from receipt of a fully completed Service Proposal and Business Case form.
The process for assessing the viability of all new Service Proposals is broken down into two stages:
Service assessment, and
Business case evaluation
The purpose of this two-stage process is to carry out a detailed evaluation, in a consistent manner, to ensure the proposed service meets a set of key requirements e.g. strategic fit, sufficient client demand, financial sustainability, resourcing and skillsets, a common, repeatable and shareable solution.
If you have any questions about the process or the form, please contact noc@heanet.ie