What is Hot Standby?

Hot Standby is a failover protection service offered by HEAnet.
This service provides reassurance – if a website goes offline, Hot Standby can step in to display whatever is required.
Hot Standby can be utilised for any kind of client website – from minor websites to major institution home pages.
This service has been specifically engineered by HEAnet for rapid and reliable failover interventions.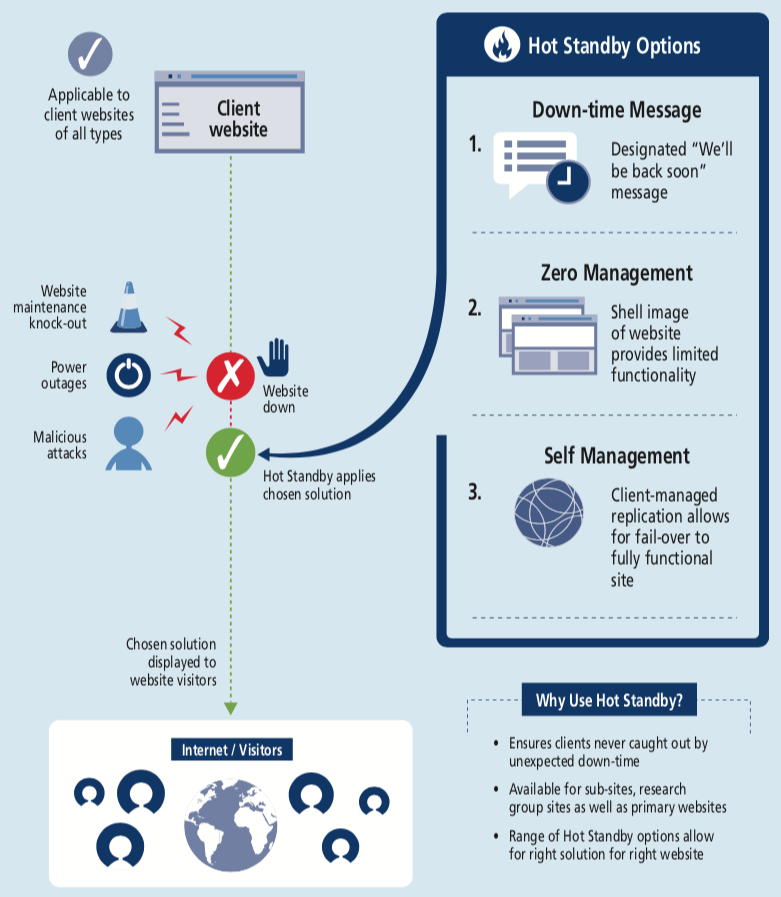 Specially Designed for HEAnet Clients

It is often the case that commercial failover services cannot offer the kind of versatility that HEAnet client websites often require.

There is no charge to HEAnet clients for the use of Hot Standby making it an economical and effective choice for institutions. All data related to the Hot Standby service is securely stored only in Ireland – at HEAnet's established data locations.

Optimal Redundancy

Hot Standby can deliver the complete solution – total redundancy, where a completely up-to-date, mirrored copy of a website (as hosted by the client) is failed-over to. This option delivers complete functionality, with no loss of content or indication that any failover has occurred.

Client Needs

Web servers can be knocked offline for a number of reasons: through power outages, accidently through website maintenance, and even through malicious activities, including DoS attacks.
In any outage scenario, Hot Standby steps in to ensure website visitors are not confronted with an error message.
Hot Standby can display a range of options, including a holding message, or a website "shell" that mirrors the website, with more limited functionality.
HEAnet web tools ensure the latest version of the website is recorded for display via Hot Standby, with site visitors often unaware they are viewing a copy.
Additionally, Hot Standby can be applied to websites that clients have ensured are replication-enabled, ensuring a true copy of the website is failed over to.
HEAnet will inform any clients of Hot Standby having been triggered.
Hot Standby can be tailored for specific web servers. Simply contact the HEAnet NOC to arrange for specific management.
The longer your site is dark, the worse it is for your reputation and your organisation.

(Hot Standby) sits in the background until
it's needed. We've relied on it for a number
of years now, and it works impressively well…the service is so unobtrusive.

The next step for us to roll out a full website back- up… a true mirror… and what's great is that this service would support that full switch-over.

Evan Ryder

IT Manager, IT Tallaght

Contact HEAnet

Support for Hot Standby is provided through the HEAnet NOC.

You can contact the HEAnet NOC by emailing noc@heanet.ie or by calling 01-660-9040, Monday to Friday, 09:00 – 17:30.

The HEAnet NOC is committed to ensuring every client receives a consistent, responsive service with an emphasis on minimising client disruption.