What is Media Hosting?

The HEAnet Media Hosting Service (media.heanet.ie) provides hosting, transcode and streaming of video, audio files and podcasts for HEAnet member institutions.

This service allows members of HEAnet's client institutions to easily host large multimedia files and directly play, embed or simply store them. Playback is offered in the highest possible quality.

Uploading via HEAnet's high-speed IP network is rapid and simple.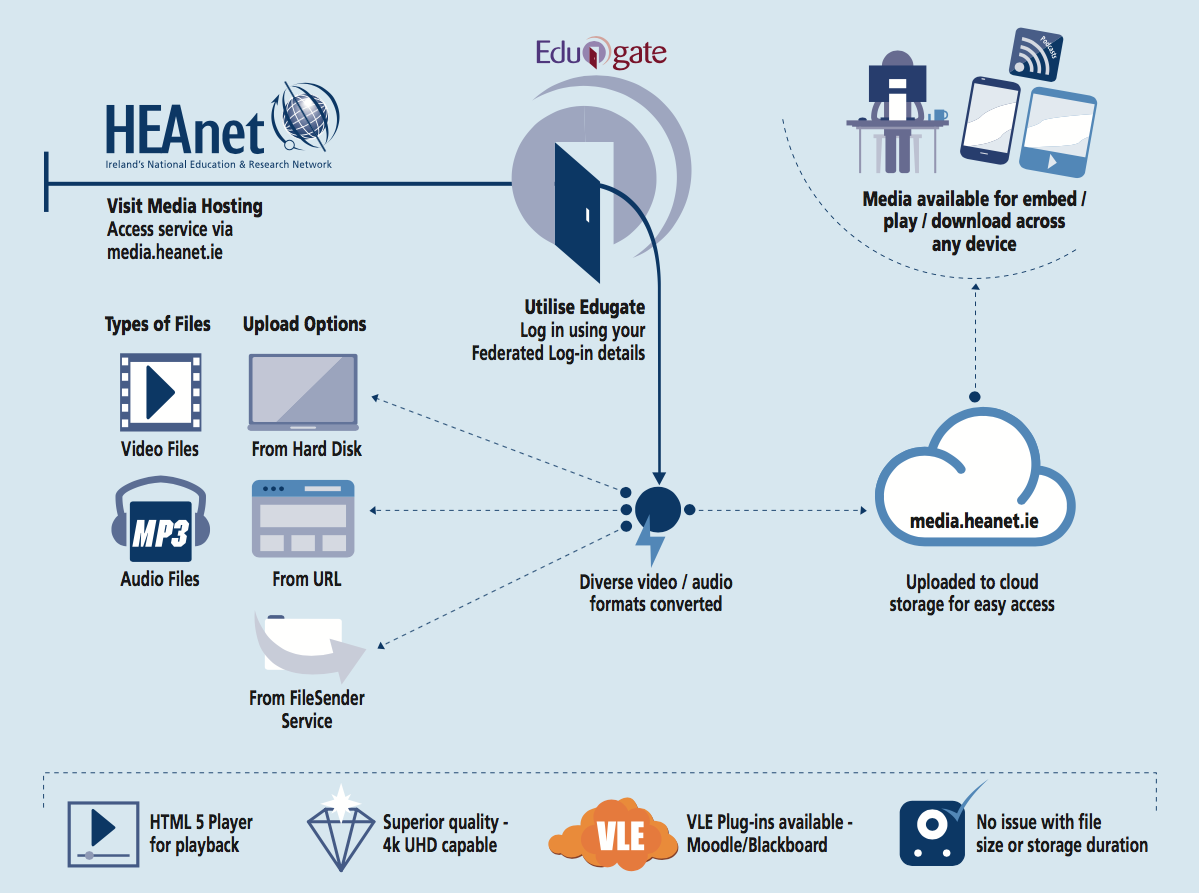 Cost

There is no charge to HEAnet clients for the use of Media Hosting.

Who Can Use It?

Any HEAnet member institutions can avail of the service. The service uses the Edugate service for authentication. For a user to log into the service, their institution must be a member of the Edugate federation.

Institutions can control who has access to the media hosting service through specific permissions in the user's federated log-in identity.

Minimal Equipment Needs

The Vscene service is designed to be as device inclusive as possible. Older and legacy video conferencing (VC) devices are supported, as well as modern VC units. Vscene can operate with the most basic of webcam / desktop set-ups, with a specific plug-in for Windows / Mac OSX available.

Hosting your Media

HEAnet's media hosting service allows for the best possible quality in media hosting.

The service allows video to be played via 11 different quality levels, and automatically selects the best option for your available connection.

Extremely high definition 4k quality is available when using HEAnet's high speed network. Home and mobile connections are catered for with multi-bitrate streaming.

HEAnet's media hosting service can host and play almost any type of video file, including MP4, AVI, MPEG, etc. Audio files including MP3, FLAC and WMA files are also supported by this service.

Files can be uploaded in a variety of convenient ways:

via local Hard Drive
via URL
via HEAnet's FileSender service

HEAnet's media hosting service features VLE Plug-in features (Moodle/Blackboard), allowing cross-hosting of content between hosting service and an institution's Moodle environment.
Additional Features
HEAnet's media hosting service includes the following useful user features:
HTML 5 video player
Easy embed options
Social Media share buttons
Video tagging options
Thumbnail selection
Podcast publishing and management
We host all of our online content on HEAnet's media hosting service. There's currently hundreds of videos uploaded(by DIT staff) and that will be doubling over the next 12 months.

I constantly recommend (the service) to anyone involved with any video production. It's very straight-forward and it's adaptive in terms of streaming. Retaining the licensing rights… can't be underestimated

We want videos to stream and scale out to lots of students at the same time…with HEAnet, the upload time and the coding has been super. We've used HEAnet's service to improve the quality of our delivery.

Paul Doyle

Head of Undergraduate Study, Dublin Institute of Technology

Contact HEAnet

Support for HEAnet's Media Hosting Service is provided through the HEAnet NOC.

You can contact the HEAnet NOC by emailing noc@heanet.ie or by calling 01-660-9040, Monday to Friday, 09:00 – 17:30.

The HEAnet NOC is committed to ensuring every client receives a consistent, responsive service with an emphasis on minimising client disruption.