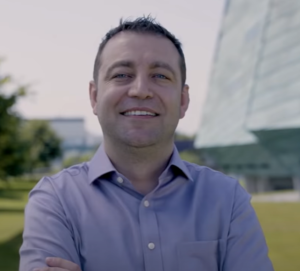 Donal McGinty
GMIT
IT Manager
Donal McGinty has over 17 years' experience in GMIT initially as a system developer and for the past 7-year GMIT's IT manger.  He manages a team of 25 technical staff in the areas of Information Systems, Network, IT Security, IT Support, Communication systems and Cloud services.
Donal has led the implementation of many innovative developments within IT services fusing cloud and SAAS systems with traditional computing infrastructure and services ranging from cloud storage and web systems to unified communication systems. Working closely with Academic Departments Donal has assisted in their digital transformation enabling adoption of cloud powered services for on demand compute and remote lab access..  Advancements have led to the deployment of a unified communication system using Microsoft Teams (including telephony services) for all GMIT staff in conjunction with full adoption of cloud powered storage and collaboration systems.
Donal completed a Master of Engineering in 2006 in Computer and Communication Systems. His research interests in include System Automation, Block Chain, Machine Learning, Data pipelines, and Cloud Architecture. Donal's and the GMIT team are at the forefront of Learning Analytics having successfully researched and developed a prototype dashboard and dynamic 2-way reporting system to visualize student success data and trigger alert notifications (depending on student engagement profile).