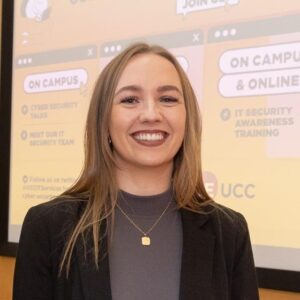 Katie Horgan
UCC
IT Security Analyst
Katie Horgan, IT Security Analyst at University College Cork, brings a unique blend of psychology and technical expertise to the IT Security Operations team.
With a bachelor's degree in Applied Psychology and a master's degree in Work and Organisational Psychology, she has applied a holistic approach to IT security.
Developing her technical abilities in IT support and IT training, Katie worked with the IT Security Operations team throughout her time in IT Services, joining them more permanently following the HSE attack. Since then, she has been leveraging her unique skill set to safeguard digital environments and champion the importance of human factors in IT security.