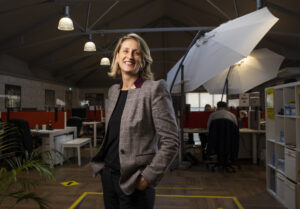 Grainne O'Keeffe
The Ludgate Hub
CEO
Grainne joined as CEO of Ludgate in Skibbereen in July 2020.
She brings with her a wealth of international management experience spanning 20 years within the financial services sector, across London, Tokyo & New York. Most recently, Grainne spent a number of years with Spearline in Skibbereen as Head of Innovation after having returned to West Cork in 2013.
Grainne graduated from UCC with a BCL in 1993 and then went on to complete an MBS at the Michael Smurfit Graduate School of Business, UCD, in 1995. From there she joined Bank of Ireland's Graduate Programme before moving to London to join JP Morgan in 1998 and subsequently Goldman Sachs in 2003. Grainne was Global Head of Credit & Equity Derivative Operations for a number of years prior to returning to West Cork. These organisations & roles enabled global mobility and career expansion providing Grainne with extensive managerial and strategic experience.
----------------------------------------------------------------------------------------------------------------
Ludgate is an initiative based in south west Cork which is focused on rural regeneration and development. The Ludgate Digital Hub opened its doors in 2016 and this year celebrates its 5 year anniversary.
The Ludgate initiative is now a proven model for this and the Irish Government's rural policy launched in Mar 2021 seeks to replicate the hub model in other rural remote areas with the goal of economic empowerment leveraging digital enablement.
Her main priority with Ludgate will be to continue the strategic goal of job creation in the rural area ensuring future generations have the option to pursue interesting and challenging careers without the need to leave. Ludgate also runs an Educational programme. Together with its partners, Ludgate has engaged in an extensive schools programme which commenced in 2019 and has been accelerated by the Covid-19 through 2020. It is Ludgate's belief that high-level Science, Technology, engineering, Maths (STEM) and digital skills are essential to promote growth and to support the rejuvenation of rural Ireland.
The Ludgate Education Programme serves as a basis for ensuring:
That participants – be they kids or youths – are provided with a balanced and coordinated programme of STEM/Digital development opportunities
That the development opportunities are complimented by a sequential series of education opportunities for key stakeholders (teachers,parents and mentors)
The more those involved adhere to the principle of Applied Lifelong Learning, the greater the level of success that can be anticipated in this context. All of the above is included in the plan through the primary and secondary school initiatives.
In 2016, Ludgate became Ireland's first rural Gigabit Hub, powered by Vodafone/SIRO gigabit broadband connectivity. It supports 21 businesses and approx 130 direct and indirect roles from a myriad of industries including tech, bio-economy, aviation services and media production. In 2021 the Government announced their rural strategy targeting the launch of 400 hubs across the country. The example of Ludgate set in revitalising the rural towns and villages through digital enablement is being replicated nationwide.