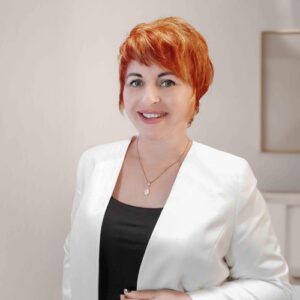 Kate Meaun
Educampus Services
Procurement and Contracts Manager
Kate Meaun, a true catalyst of change in the procurement world, brings an impressive 19-year career dedicated to transforming public procurement. She has consistently driven change in public procurement from Moldova to Ireland through collaborations with the United Nations Development Program.
Kate's research focus is driven by an unwavering passion for ethical and sustainable procurement, particularly emphasizing human rights integration through the public procurement process. Her groundbreaking research, exemplified in her white paper "Empowering Human Rights Through Public Procurement," spotlights the profound impact of procurement decisions on fundamental human rights. This dedication has made her a trailblazer, advocating for ethical procurement practices that prioritize dignity and equality, igniting a revolution in the field.
Her pursuit of knowledge and commitment to excellence extends to her current MSc in Procurement and Supply Chain Management enrolment. This academic endeavour deepens her expertise, solidifying her position as a thought leader in procurement.
As an esteemed affiliate of the Chartered Institute of Procurement & Supply (CIPS) and a holder of the CIPS ethical conduct certification, Kate demonstrates unwavering dedication to ethical excellence. Her commitment to upholding the highest ethical standards in procurement knows no bounds.
Beyond her professional endeavours, Kate is an active contributor to Toastmasters International. She serves as a Vice President for Public Relations at Bandon Toastmasters, where she is recognized as a beacon of leadership and excellence. Additionally, she has played a pivotal role as the founder of the Romanian Speakers Community in Munster, championing cultural exchange and fostering a sense of belonging.
As a Procurement and Contracts Manager at EduCampus Services, Kate collaboratively integrates her forward-thinking procurement strategy with the team's commitment to ethical standards. Her exciting practice in ICT procurement within higher education unites these passions, driving her vision of sustainable, equitable procurement for a better world.