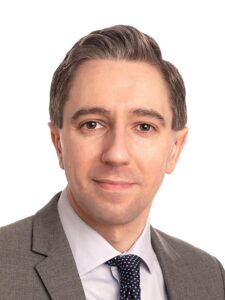 Minister Simon Harris
Houses of the Oireachtas
Minister for Further & Higher Education, Research, Innovation & Science
Simon is a native of County Wicklow and was first elected to Dáil Éireann in the 2011 General Election as the youngest member of the 31st Dáil. He was reelected in the 2016 and 2020 election.
He has served as Minister of State in the Departments of Finance, Public Expenditure and Reform and the Department of the Taoiseach with Special Responsibility for OPW, Public Procurement and International Banking (including IFSC). During his time here, he drove a new strategy for financial services in Ireland and managed Ireland's worst floods.
Simon was Minister for Health in 2016 to 2020 managing the first wave of the Covid-19 pandemic. During his time in health, he introduced a new all-party agreement on reforming the health service, steered new contracts for nurses, doctors and GPs. He introduced laws modernising Ireland's laws on abortion, introduced a new law curbing the sale of alcohol for children and secured agreement on a life-saving drug for people with cystic fibrosis.
In his present role as Minister for Further and Higher Education, Simon has prioritised the delivery of regional technological universities, reform and integration of the third level system including apprenticeships, advancing social inclusion and equality in education and developing Ireland's human capital through education, skills and training.