Admin by Request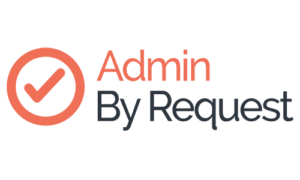 Admin By Request is a powerful, highly compact Privilege Management solution for PC, Mac andLinux Workstations. The product also has a powerful offering for Windows Servers with Admin By Request Server Edition. All managed under one easy to use online portal.
Admin By Request is Built on FastTrack Software's extensive experience writing highly robust, portable, and powerful network applications, Admin By Request is simple to deploy, easy to use, and is affordable to organisations of all sizes. Admin By Request enables IT departments to identify Local Admin rights usage, automate rights revocation, and replace permanent un-audited admin rights use with an easy to use per request or time-limited privilege elevation system with a full audit trail. With Admin By Request, office-based or remote workers can safely perform tasks that would previously have required support tickets and valuable helpdesk time. Elevated rights operations such as printer setups, installation/removal of approved software, and plugin management can all be performed by users, maximising productivity whilst still maintaining full security framework compliance.
Admin By Request consists of 2 parts:
On-premises endpoint agent (Windows or Mac): This initiates elevation requests and performs elevation workloads. If online the endpoint communicates configured information to the portal (e.g., logs, requests, and settings). Management portal communication is not mandatory for the solution to function.
Management portal: A secure Microsoft Azure managed enterprise-class SaaS hosted environment in which agent settings, computer inventory, and elevation workflow requests are collected. The portal also enables mobile app & API functionalities. Admin By Request requires no additional on-premises infrastructure (servers, VM appliances, databases, etc...) all that is required to start a full proof of concept is to sign up to our Free Plan, giving you a full product experience for a maximum of 25 endpoints, free and forever.
Admin By Request license (what's included):
Local Admin Rights Management
Windows workstation and Mac/Apple O/S or Windows Servers
Subscription and Support
Mobile App Access (Apple & Android)
Full API access
OPSWAT Metadefender Malware Protection
Directories: Active Directory, Microsoft Entra ID (Azure AD)
Integrations: Microsoft Teams, Slack, ServiceNow, Splunk, Microsoft Sentinel, Intune, PowerBI, Single Sign On, Ticketing Systems and Anything 'RESTful'
Visit us: Stand #3
Website: https://www.adminbyrequest.com/en