Agile Juniper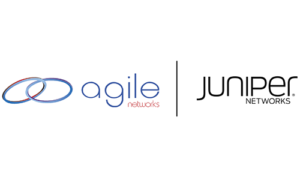 Agile Networks and Juniper Networks represents a partnership designed to deliver AI-powered, experience-first network services.
We design, deploy and support high-performance, intelligent network architecture that allows colleges, universities, and research institutions to enjoy secure, AI-powered digital learning and computing services.
Using a combination of AI-driven campus technology and smartphone applications, we give students all the digital tools and resources they need to navigate campus life and complete coursework, in live or remote learning environments.
Students and staff stay connected securely while Juniper's technology embeds security and asset tracking at every network connection point, helping fight the ongoing continuum of cyberthreats by protecting users, applications, and infrastructure 24 x 7.
Proud Sponsor at the 2023 HEAnet Conference
Visit Us: Stands #17 and #18
Websites: