Select Tech Group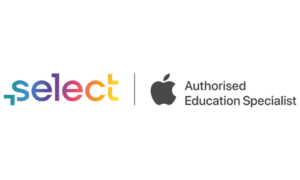 Select was born by a desire to inspire, educate, and enable the wider community to discover the power and creativity of Apple technology. We are Apple Authorised Education Specialists, Empowering Teachers and Inspiring Students through technology.
Select enables your school to deliver its digital strategy with the support of powerful products, perfect accessories, and teacher-friendly classroom technology.
We believe every individual has the ability to do great things and that Apple products can help them realise their potential. We're passionate about education and want to help schools, universities and colleges transform by making learning a magical experience.
Select support schools enrich education through the effective use of technology. As an accredited Apple Professional Learning Provider, we offer empowering and innovative training solutions for educational organisations at any stage of their Apple journey. Through online platforms, bespoke onsite professional learning plans, and exciting new teacher courses, our training is sustainable, measurable, and enjoyable.
Proud Sponsor at the 2023 HEAnet Conference
Visit us: Stand #16
Website: https://www.select-tech.co.uk/