SonicWall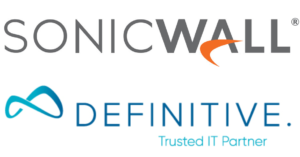 SonicWall delivers Boundless Cybersecurity for the hyper-distributed era in a work reality where everyone is remote, mobile and unsecure. SonicWall safeguards organizations mobilizing for their new business normal with seamless protection that stops the most evasive cyberattacks across boundless exposure points and increasingly remote, mobile and cloud-enabled workforces. By knowing the unknown, providing real-time visibility and enabling breakthrough economics, SonicWall closes the cybersecurity business gap for enterprises, governments and SMBs worldwide. For more information, visit www.sonicwall.com or follow us on Twitter, LinkedIn, Facebook and Instagram.
Definitive Solutions is a well established, 100% Irish owned IT MSP and work with both national and international clients.  We have a very strong focus on IT security and we are expert in delivering SonicWall and Microsoft solutions.  With over 21 year's experience, we provide consultancy and support to companies in many verticals including Government, Education, Not for Profit and Pharma.  We are the number 1 Sonicwall Partner and the only SonicWall Platinum Partner in Ireland. Although we are a technology company, we are also a people company and build strong and lasting relationships with clients, some of whom have worked with us for over 21 years.
For more information visit www.definitive.ie or follow us on Twitter or LinkedIn.
Definitive Security Solutions in Education 2pp A4