Strata Info / SIG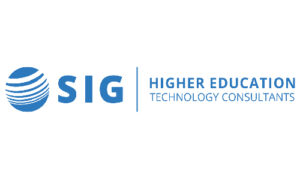 As a trusted partner to over 700 colleges and universities worldwide, SIG has been empowering educational institutions with innovative strategies, implementation support, and managed services across various domains.
SIG's focus on customer satisfaction and consultant expertise and experience has fostered its growth into one of the largest privately held providers of technology support and services to higher education.
SIG has significantly expanded its consulting solutions with a newly formed Cybersecurity and Salesforce practice which will be focused on meeting the needs of higher education institutions.
What We Do
Cybersecurity: Strategy, Testing, Support
Strategic: Process Improvement, Assessments, Digital Transformation, Project Management, Procurement
Functional: Implementation, Training, Operational Performance, CRM System, ERP System
Technical: Integration, System Upgrades, BI, Reporting, Cybersecurity
Managed Services: Staff Augmentation, Post-Implementation Support, Remote DBA (Cloud & On-Prem)
It starts with hiring extremely talented consultants, on average our consultants have over 10 years of higher education experience in their field. When acquiring services from SIG, not only do you have your assigned consultant you also gain access to the entire SIG consulting eco system. Providing access to an expansive skill and knowledge that can accelerate problem solving, increase collaboration, and lead to greater innovation.
Visit us: Stand #13
Website: https://www.sigcorp.com/