[L – R]: Dr. Joseph Ryan, Chairperson EduCampus; Ronan Byrne, CEO HEAnet; Prof. Anne Scott, Chairperson, HEAnet; Paddy Naughton, CEO EduCampus

HEAnet, Ireland's National Education and Research Network incorporated in November 1997 marked this celebratory milestone on October 27th in Dublin. The gathering of HEAnet and EduCampus colleagues, alums, stakeholders, board members, and ex-board members made for a memorable evening. 
The evening commenced with the CEO of HEAnet, Ronan Byrne, as he welcomed all guests and introduced the agenda for the evening.  
Following Ronan's welcome, Professor Anne Scott, Chairperson, Board of HEAnet, and Professor Emerita, University of Galway, spoke on behalf of the board members acknowledging the vast growth and ongoing expansion of HEAnet.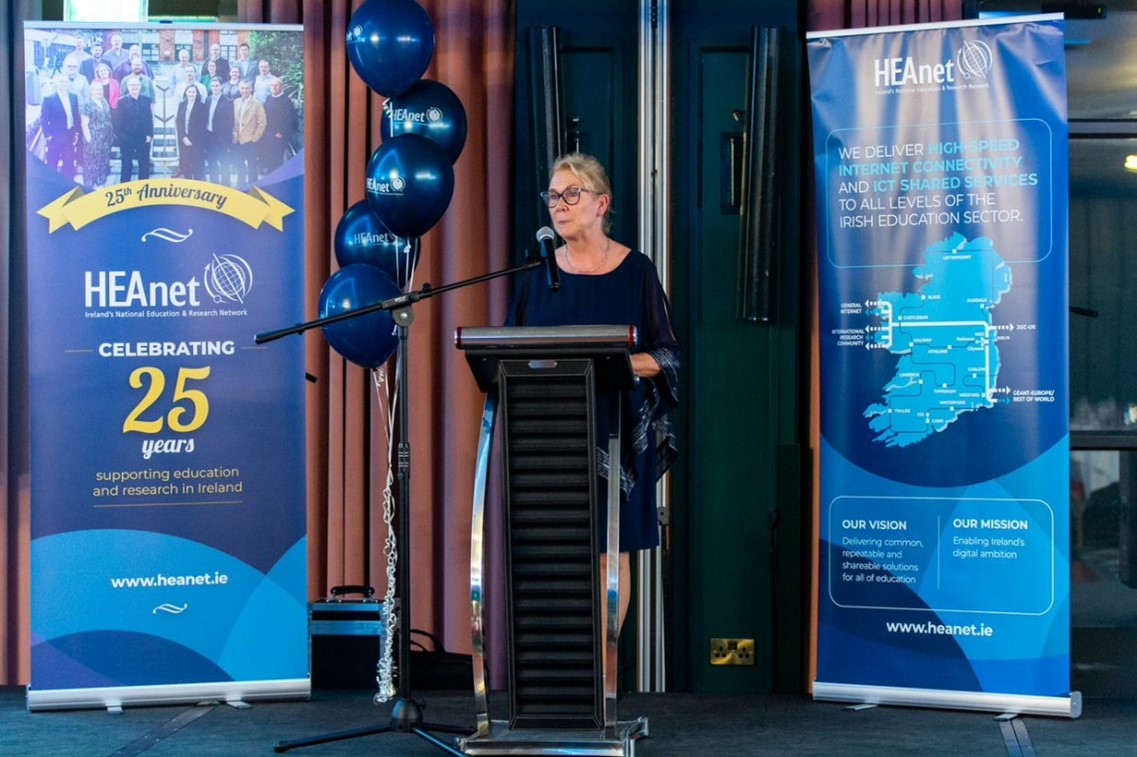 Professor Anne Scott, Chairperson, Board of HEAnet and Professor Emerita, University of Galway
Professor Scott acknowledged the great leadership and committed team who are prepared to go out and work with the education and research sectors. "The ability of the team at HEAnet to work hard at horizon scanning and focusing on how HEAnet can continue to support the services into the future shows the dedication of the team." 
"HEAnet can be described as an exemplar shared service and our collaboration with the subsidiary company EduCampus can also be viewed as exemplar with the services they provide." 

Minister Simon Harris for Further and Higher Education, Research, Innovation and Science contributed to the speeches via video transcript. 

Minister Simon Harris for Further and Higher Education, Research, Innovation and Science
"For my part, I would like to acknowledge the crucial role that HEAnet has played in ensuring connectivity and IT services to the entire education sector. Over 1 million students, researchers and educators rely on HEAnet's networks everyday." 
"Critically HEAnet work fosters inclusion and equality of opportunity and I've seen this in action when we worked closely together in the darkest days of the global Covid-19 pandemic when you narrowed that digital divide by placing 16,700 laptops into the hands of students who needed them." 
"HEAnet and its subsidiary company EduCampus underpin research, innovation and the development of talent right across our country."
Click on the video below to watch Minister Harris's speech.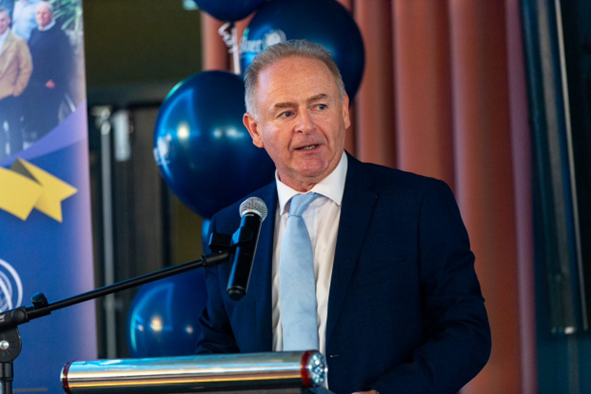 Ronan Byrne, CEO HEAnet

During the closing speech Ronan Byrne, CEO HEAnet, reflected on how HEAnet navigated and flourished with its services throughout the years, comparing back in 1997 when the handful of universities were operating on 128kb to today's most recent accomplishment with University College Dublin operating on 100Gb. 
Ronan referenced several key milestones along the HEAnet 25-year timeline while acknowledging the high availability of its network as being an essential underpinning to HEAnet's growth and expansion. "An ever-present backdrop to our impressive services development continuum has been the consistency of our network, underpinned by our commitment to high availability service levels." 
Ronan shared that focusing on the immediate future, HEAnet will concentrate on assisting clients in mitigating cyber security threats. HEAnet is now expanding the ICT Security Services team and a new sectoral Security Operations Centre (SOC) is being developed to reduce the incidence and impact of cyber-attacks for all higher and further education clients. 
Ronan also gave an honorary mention and thanked the founding CEO of HEAnet, John Boland and the previous CEO, Kerrie Power. He also thanked HEAnet's "founding architects," who joined the company at the very start in 1997 and were all in attendance at the event.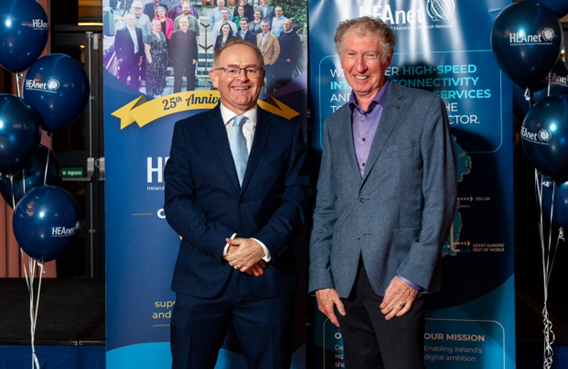 CEO HEAnet, Ronan Byrne, with founding CEO of HEAnet, John Boland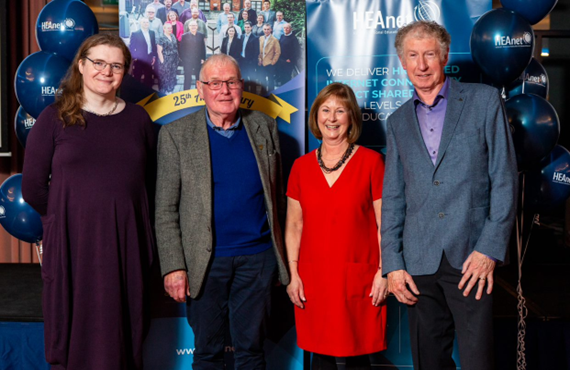 Founding Architects of HEAnet
[L – R]: Anna Wilson, Mike Norris, Rhian Williams and founding CEO of HEAnet John Boland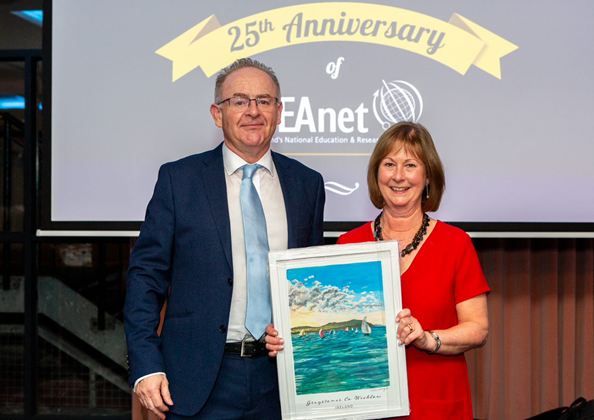 A surprise honorary gift was presented to Rhian Williams as she now retires from HEAnet after 25 years and will be truly missed by all her colleagues. 

Thank you to everyone who attended the event and supported HEAnet over the 25 years. HEAnet look forward to many more years of close collaboration their our clients, colleagues, the Department of Education, the Department of Further & Higher Education, Research & Innovation, other Departments and governmental agencies as well as various European programmes via its membership of GÉANT and the European Open Science Cloud (EOSC) Association. 
To learn more about HEAnet, click here: HEAnet – Celebrating 25 years supporting education and research in Ireland