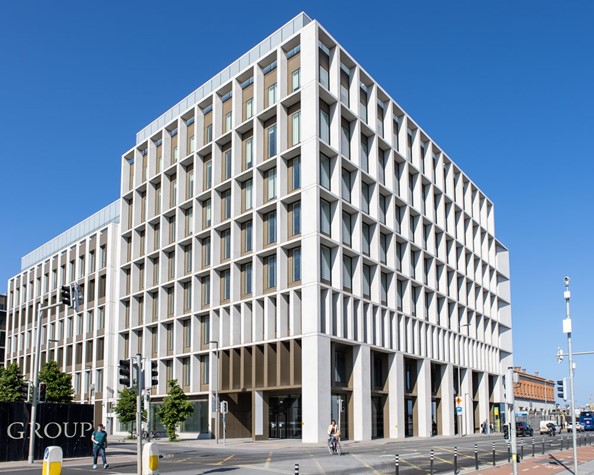 We are delighted to share the exciting news of HEAnet's recent move to a new office location in North Dock 2. This transition marks a significant milestone in our company's growth journey.   
Why the Move? 
Our move to North Dock 2 was necessitated by the remarkable growth in our workforce, which has seen a 16% increase since January 2023. This surge in staff numbers is a direct result of our involvement in new services for our clients and the need to expand our operations to support these services. 
A Glimpse into Our History 
HEAnet has a rich history that dates back to its establishment in 1983. Officially launched in 1986 at University College Dublin, our primary mission was to provide computer networking among Ireland's seven universities. Fast forward to today, and our journey has been one of continuous growth and innovation. Today we have over 80 clients from across the research and education community in Ireland, and over one million staff and students relying on our network every day. 
In 1997, when HEAnet moved from UCD, we took our network with us, which, at that time, reached a peak speed of 2Mbit/sec. We initially had to build our communications facilities as commercial datacentre space was scarce. By 2001, our growth necessitated a move to Brooklawn House, Ballsbridge, as network speeds had already doubled several times over.  Our first 155Mbit/sec lines went in shortly afterwards, a speed now long since overtaken by the connections to our homes and even our smartphones!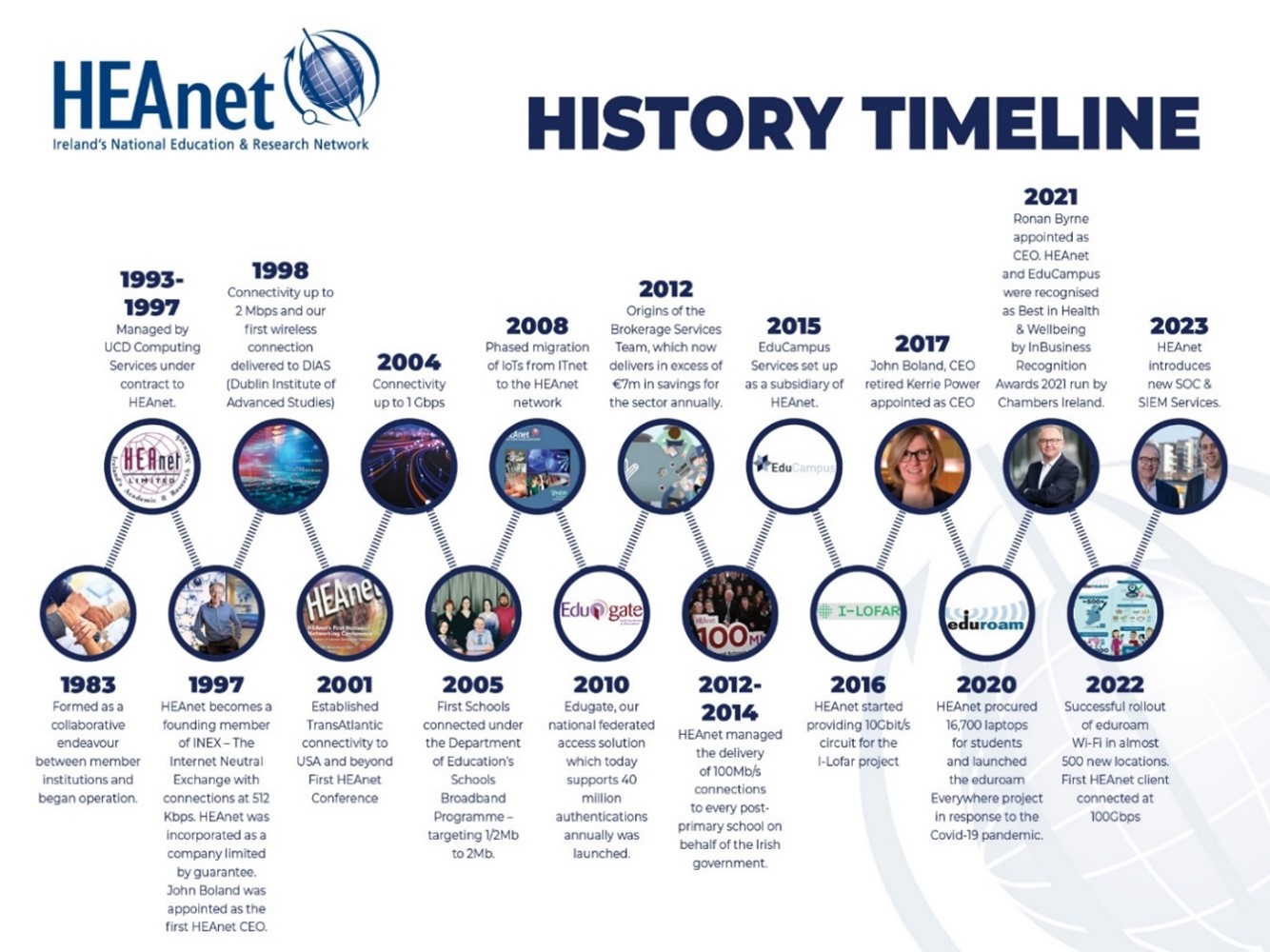 A Strategic Location 
Our new office is strategically located in North Dock, a bustling area in Dublin known for its vibrant tech ecosystem. This central location enhances accessibility for HEAnet's members, partners, and staff, facilitating collaboration and fostering closer relationships within our community. 
Building Expertise and Welcoming New Team Members 
We are proud to welcome new team members with diverse skills to HEAnet, while also retaining valuable staff members who have been with us for many years. Our average staff tenure currently stands at 7 years, blending experience with fresh talent. This mix positions us well for 2024 and beyond, as we strive to achieve our ambitious targets. 
The Office Transformation 
Last year, HEAnet signed a lease for the 3rd floor of North Dock 1, 93/94 North Wall Quay. The space was a core shell only and required both a CAT A fit-out (basic finishing of the interior space and included the installation of a building's mechanical and electrical services) and CAT B fit-out (follows on from CAT A fit-out and shapes interior spaces, involving everything from meeting rooms to desks and carpets) making the space functional and appropriate for our operations.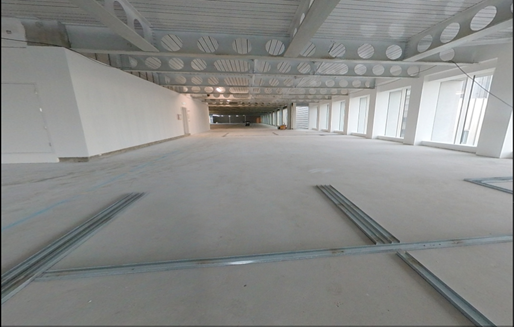 The Capital Works Management Framework (CWMF) was employed to manage this project. It began by selecting an integrated design team (IDT) led by DMOD Architects to specify the fit-out according to HEAnet's requirements. Subsequently, a tender process shortlisted six fit-out contractors for the final stage 3 procurement. In January 2023, we signed a contract with T&I Fitouts, the preferred tenderer, and work commenced onsite in mid-January. 
We are pleased to report that the fit-out was completed on time and within budget, making it ready for occupation by our staff from summer 2023.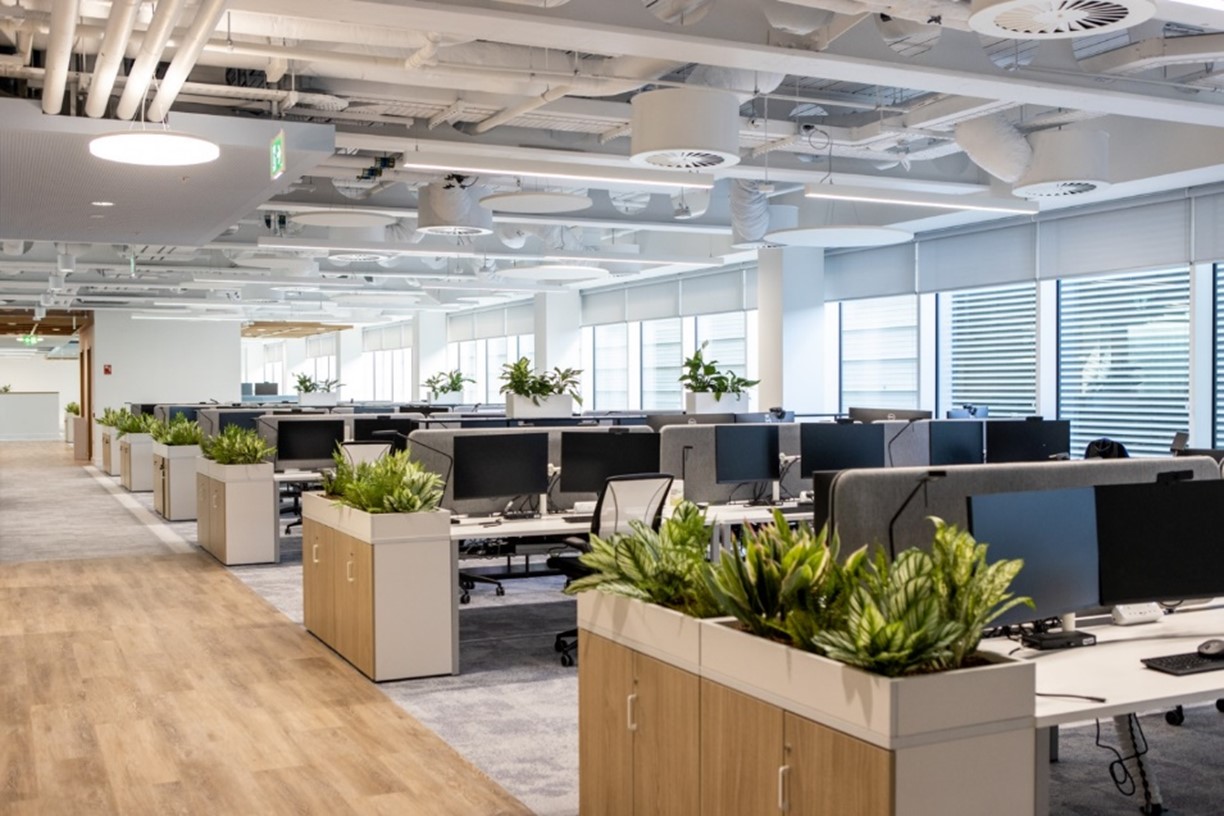 A Bright Future Ahead 
Our new office in North Dock 2 is an exciting development for HEAnet. This expansion will strengthen our infrastructure and capabilities to meeting the evolving needs of our clients and partners. The enhanced workspace will enable HEAnet to continue delivering high-quality services and support to the Irish education and research community." 
For more information about HEAnet and its services, please visit www.heanet.ie