Congratulations to Solomon Doyle from Dundalk Grammar School in Louth, the winner of this year's HEAnet Special Award at the BT Young Scientist & Technology Exhibition 2022.
The 58th BT Young Scientist & Technology Exhibition took place online on the 12th– 14th January 2022 and over 1000 students represented their schools at the virtual exhibition this year. BTYSTE continues to showcase inspiring projects delivered by imaginative and gifted students every year.
HEAnet is Ireland's National Education and Research Network. We deliver high-speed internet connectivity and IT shared services to all levels of the Irish education sector – that's over one million students, researchers and staff relying on our national education network every day.
Once again, HEAnet supported the BT Young Scientist & Technology Exhibition by sponsoring a Special Award. HEAnet's BTYSTE Special Award goes to the project that shows the most practical and innovative use of network technology in performing background research for the project and/or collaborating with other team members, teachers etc.
Solomon Doyle won HEAnet's Special Award for his project "iVision-A Convulotional Neural Network based Object Detection and Text Recognition Mobile Application for the Visually Impaired." The award was virtually presented by HEAnet's CEO, Ronan Byrne.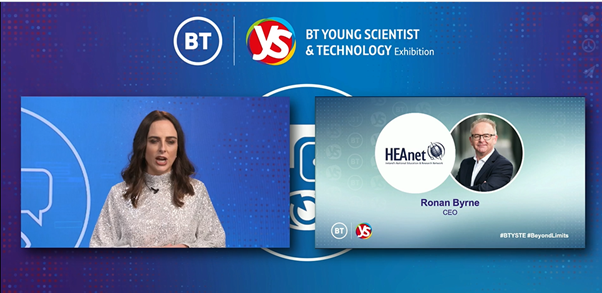 Upon receiving the award, Solomon Doyle said: "I am delighted to be receiving this award. By receiving this award I now see how my project can be deployed into helping disabled visually impaired users in their everyday lives. My projects' use of Convolutional Neural Networks provides visually impaired individuals with a means of interpreting our world in an innovative and efficient way. Hopefully, my success can inspire others to take the time to develop new assistive technologies to help millions of visually impaired people worldwide. Thank you so much for this honour."
Ronan Byrne, HEAnet's CEO, commented on the announcement: "I would like to congratulate Solomon Doyle for winning the HEAnet's Special Award. HEAnet's vision is enabling Ireland's digital ambition, and we believe that supporting and rewarding the young generation of innovators, such as Solomon, is essential to ensure the future growth in technology."
Here are previous winners of the HEAnet's Special Award:
HEAnet Special Award, BT Young Scientist & Technology Exhibition 2021 – HEAnet
HEAnet special award, BT Young Scientist & Technology Exhibition 2020 – HEAnet
HEAnet special award, BT Young Scientist & Technology Exhibition 2019 – HEAnet
HEAnet special award, BT Young Scientist & Technology Exhibition 2018 – HEAnet
HEAnet Special Award, BT Young Scientist & Technology Exhibition 2017 – HEAnet